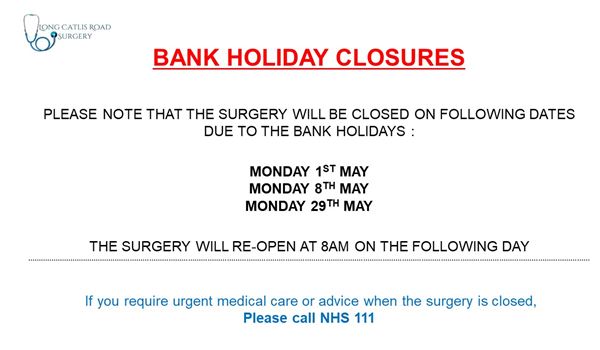 BLUE SUITE CLOSURE FAQ
Blue Suite Closure FAQs
Is Blue Suite still open?
The provision of general practice services at Blue Suite stopped about 2 and half years ago. We are now engaging with you to listen to your thoughts and views about it closing permanently.
Will Parkwood main site have the capacity to provide services to more patients?
Parkwood site is big enough to cater for more patients and if necessary, we are able to acquire more clinical rooms at the health centre which is more efficient than maintaining 2 sites.
Also, innovative ways of working now allows us to provide a mixture of face to face and virtual appointments to suit each patient's need.
This move will not negatively impact the care of patients using the Parkwood site.
Will the closure of Blue Suite affect availability of appointments?
The number of appointments will not reduce after closing Blue Suite formally
What is the benefit of closing Blue suite?
Providing general practice services from the two sites is not financially sustainable and the surgery may fail altogether if Blue Suite is not closed.
There is easier parking for patients and staff at the main Parkwood site compared to Blue suite
Closing Blue Suite will help us focus our resources and efforts at one site for a more efficient and responsive service which will help us better meet the needs of patients.
What if I need a home visit?
Closing Blue suite will not affect the provision of home visits to patients that require a home visit. This part of the service will continue as usual.
How far is the Parkwood Main site from Blue suite site?
The distance between Blue Suite and the Parkwood main site is 1.7miles which is an eight minute car ride and 12 minutes on the bus.
What is the process of closing Blue suite?
We will start with a period of engagement with stakeholders and patients, particularly those that used blue suite in the year before provision of services stopped. The engagement process will last for 6weeks. Following this, the outcome of the patient surveys will be sent to the patients and commissioners. Thereafter the, the outcome of the engagement and next steps will be submitted to the commissioners. The outcome will be communicated to patients and stakeholders.
As a patient, do I need to register again at Parkwood Health Centre?
You do not need to register again.
Collection of prescriptions and repeat prescriptions
Your prescriptions and repeat prescriptions can be electronically sent to your chosen pharmacy or chemist reducing the need travel to the surgery as well as being environmentally friendly by using less paper.
If you do not have a chosen pharmacy, you can update this on your records when next you speak to reception.